Every once in awhile the fashion gods bless me with an outfit that is somehow magically perfect. Once in a lifetime, they do me the honor of including an entire shop with clothes just for me.
I'm a large woman. There is no denying it and I'm proud of my shape and what my body has done and will continue to do for me. I'm strong, I'm fit, I'm pretty healthy, and I love to look lovely just like everyone else. That's difficult when you have an entire society pushing a body size matched for a size 2. I'm a size 16, 18 depending on where I shop. I'm short, bottom heavy…and top heavy. haha. I'm generously endowed in the rear and my lady lumps up front (thank you Fergie) are equally generous. 
When you have a body type like mine, shopping is more than a challenge and often times leads to ugly crying while eating Ben and Jerry's on the treadmill. Okay, so I'm exaggerating. My feelings do get hurt though. Particularly when I see unattainable bodies asking my plus size butt to just "work out, eat better, eat less, work out differently, try paleo, try vegan, try a lemon-cayenne-cinnamon juice cleanse."
Now let's add this equation to a pregnant plus size body and you get a mom desperately trying to hold on to a shape that was already frowned upon by society (but it's MY shape) and stuffing it in clothes that's too small, too tight, is only provided in horizontal stripes (seriously? this is like a cruel pregnant woman joke) and life shattering. Think I'm being dramatic? Pregnant hormones can cause emotions akin to the emotions you have felt on the worst day of your life. Yeah. That bad.
So where did that leave me midway into my pregnancy after being sick of the horizontal lines, the side ruched yuckiness, and the hotter than hot belly bands?

Pregnant? Plus Size and Pregnant? You just want super cute clothes and you're a size 8? Pinkblush is where it's at! I first heard about Pinkblush from another mom blogger and kind of rolled my eyes at it because at the time a lot of women were pushing the "buttery leggin's" company and I was sick of people pushing clothes that "might fit" my way. I ended up entering a giveaway and won a giftcard for Pinkblush and luckily had just found out my sister in law was pregnant so I decided to use it on her. When I received the maxi skirt I had ordered I was floored by how soft and stretchy it was. I could not get over the quality for the price. It was a pretty affordable skirt and I didn't expect much more than something you'd get at your local mall maternity stores but it was simply perfect. I was still fearful of ordering anything for myself until I found out I was pregnant. As I've already stated, clothes has been kind of off putting in that it's uncomfortable and fits funny. Plus size maternity at most stores fits me like I'm a chubby toddler playing dress up. I'm too short in length but with a long torso so XL kind of fits but 1X looks like I'm a round little human in a tent. I needed a brand to rely on that wasn't going to break the bank. I opted to give Pinkblush Maternity a try and suffice it to say I will most likely be wearing a lot of Pinkblush through the rest of my pregnancy and hope to invest in one of their super cute robes – something I really needed with Jack but thought of too late. It resulted in a Wal-mart men's robe that made me look like Gandalf the flasher. It was hideous. This time around I think a cute floral number will be in the works.
Love this floral lavendar dress? Click here —-> Cute Maternity Clothes
Want to order the mint dress I'm wearing? Check out this link  or click on the image below and keep an eye out for their revolving deals! They always offer discounts and free shipping and it's so worth it!  Glad I gave them a shot!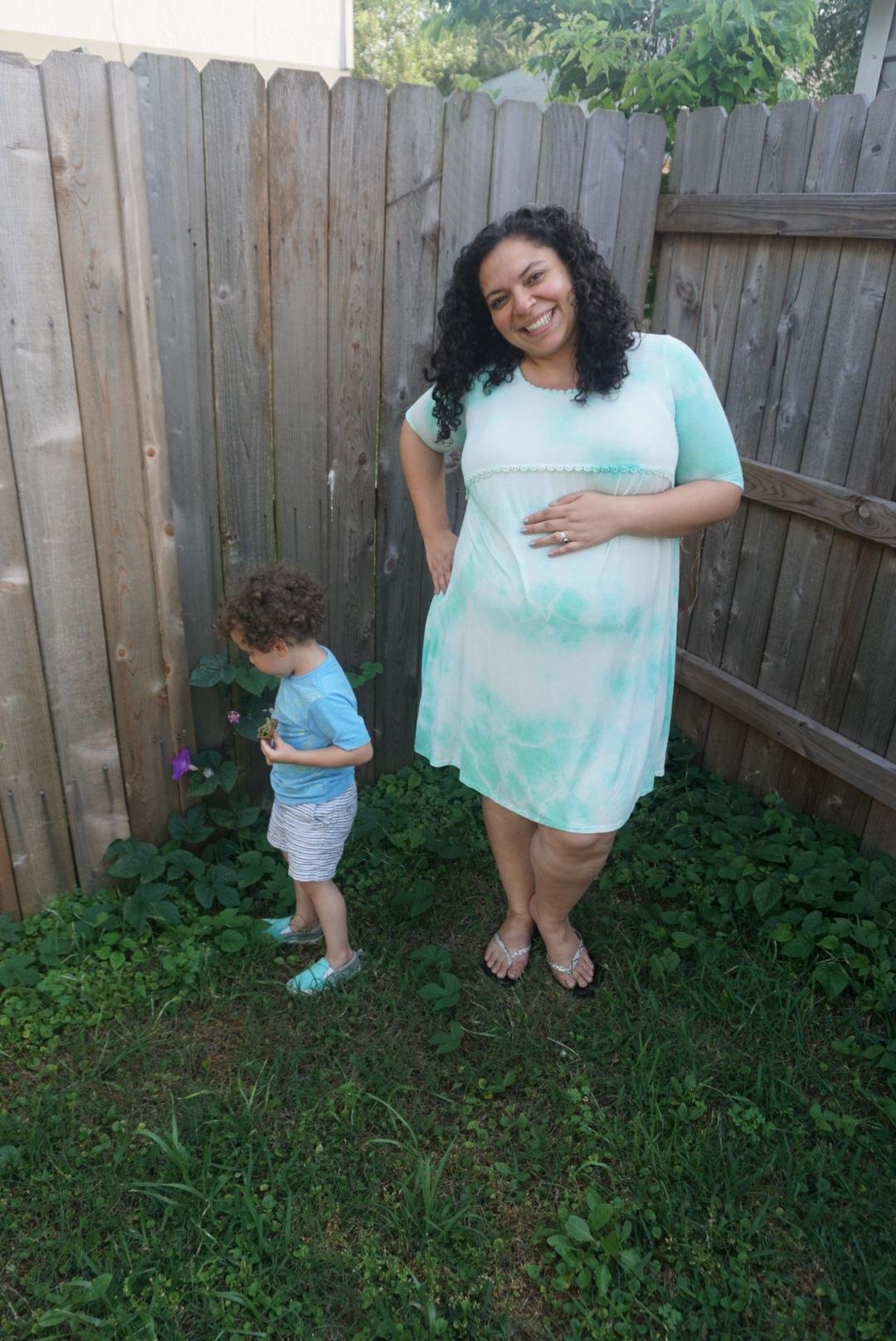 Comments
comments